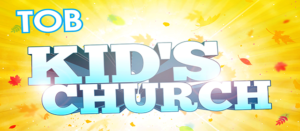 TOB Kids are in the House!
Our kid's church at TOB is growing and exciting, just like the children in the classes. Our kid's church ranges in age from kindergarten through fifth grade. We believe that every child has an important part in the family of God and we encourage each one to find and use their talents.
We teach the children through a solid curriculum based approach with different "hands-on" activities. Every time the children are in class they are given the opportunity to learn more about God, His Word and how to apply it to their lives today. They are often given memory verses to learn from and involve their families and will also have time for fun with their peers.
Come out, bring the kid's and their friends, they will have a great time learning more about Jesus!